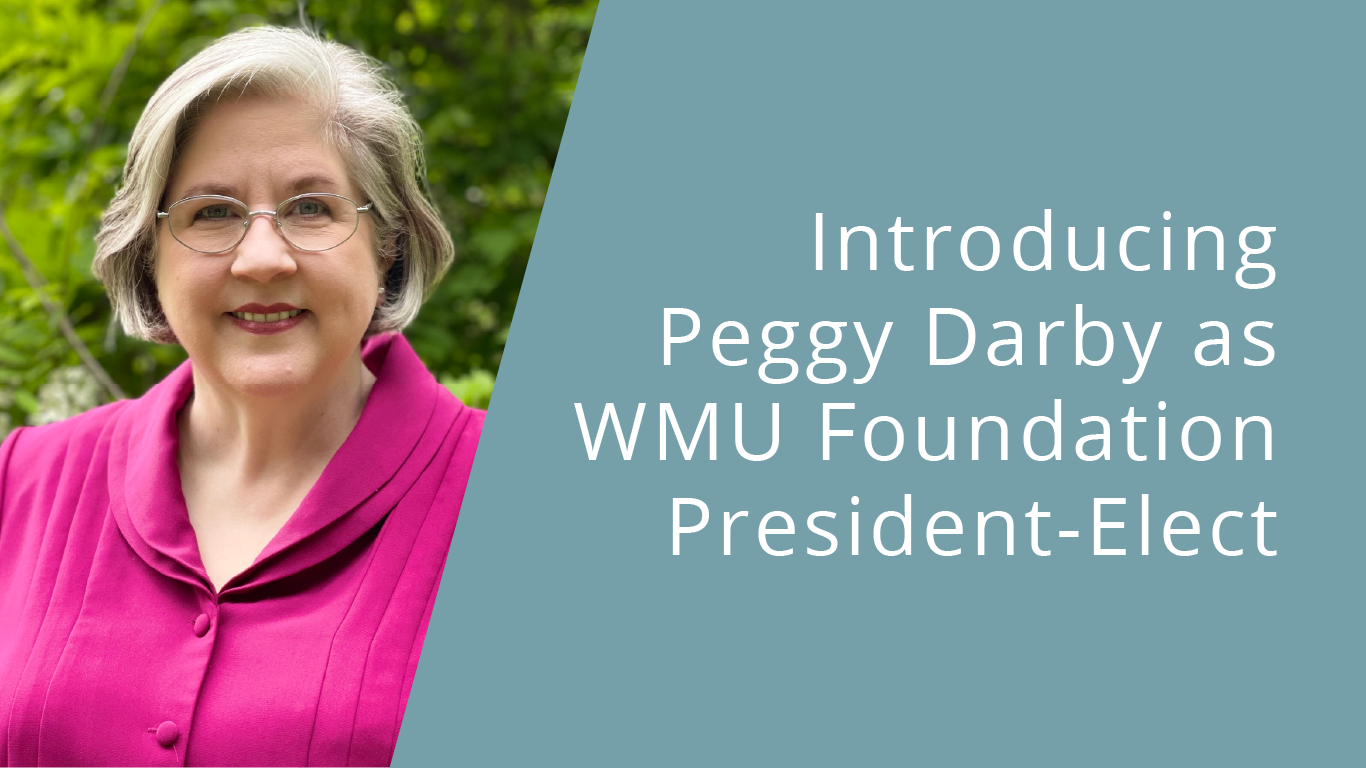 After a unanimous vote by the WMU Foundation Board of Trustees present at this morning's April Board Meeting, Peggy Darby of Birmingham, Alabama, was named President-Elect of the WMU Foundation. Darby will assume the position of President on July 1 after current President David George retires on June 30.
Darby has over 23 years of experience in fundraising and earned her nationally accredited certification as a Certified Fund-Raising Executive (CFRE) in 2006.
"As we conducted our interviews," explained John Bergquist, WMU Foundation Board Vice-Chair and Chair of the WMU Foundation President Search Team, "it was Peggy's Christian life testimony, including her salvation story, her connections to WMU activities growing up in the local church, and her faith journey that helped us see the strength of her character."
"It was clear to me in the interview that God led Peggy to the WMU Foundation and the WMU Foundation to Peggy," said Cheryl Hatfield, WMU Foundation board member and WMU Foundation President Search Team committee member.
A longtime member of various Southern Baptist churches, Darby's earliest memories of church include times spent in Girls in Action classes. As she got older, she was also active in Acteens. Both Girls in Action and Acteens are WMU organizations that teach young and teenaged girls about missions.
"I have a deep love for WMU, both nationally and in local churches," said Darby. "Given my love and passion for WMU, it is my honor to use my professional skillset to help continue the work of the WMU Foundation."
"Peggy's experience with fundraising and development, and even her experience facing difficult and adverse circumstances with grace and purpose, helped us understand the depth of her integrity and character," continued Bergquist.
"The wonder of God's plan is that it continues to unfurl throughout eternity, and He invites us to join Him in it," said Sandy Wisdom-Martin, executive director-treasurer of national WMU. "The WMU Foundation was blessed when David George accepted his place in God's plan. David's heart was set on helping Christ-followers fulfill the mission of God. As the mantle is passed, Peggy will help us cross bridges and overcome barriers in obedience to the Great Commission. We look forward to walking with Peggy to carry His message of reconciliation and redemption to a world that awaits the Good News."
Darby received a Bachelor of Arts degree from Judson College in Marion, Alabama, and a Master of Arts in Organizational Management from the University of Phoenix Online.
"Thank you for selecting me to serve as the next president of the WMU Foundation," concluded Darby. "I pray that God will continue to find me faithful to His calling and to this next chapter of my ministry here on earth."
The WMU Foundation is a Baptist missions foundation established in 1995 by national WMU under the leadership of Dr. Dellanna O'Brien, former executive director of national WMU. The mission of the WMU Foundation is to engage missions-minded individuals and entities to encourage, motivate, facilitate, and sustain the investment of resources for the benefit of WMU and the causes it supports.
>> Get to know more about Peggy Darby in this video interview with The Baptist Paper.
Written by Maegan Dockery, WMU Foundation Communications Manager.